The market continue to spring higher as we approach the end of the year. All eyes will be on the FOMC this week as they are set to announce a potential interest rate hike. However, it's their forecast that investors will be paying attention to closely.
Trading volumes should slow down in the next coming weeks. That said, traders may still find some opportunities in low-float stocks.
In addition, Bitcoin futures are set to start trading this Sunday.
The "fear index" closed at 9.60 on Friday, as it now sits near the 52-week lows.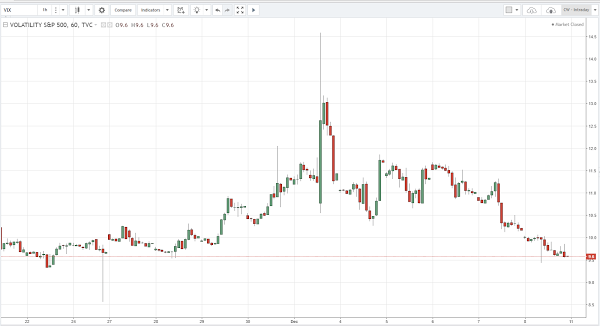 Source: TradingView
Here are how some of the most traded ETFs performed over the week: SPDR S&P 500 ETF (SPY) +0.40%, iShares Russell 2000 (IWM) -1.05%, SPDR Dow Jones Industrials Average ETF (DIA) +0.48%, and PowerShares QQQ ETF (QQQ) +0.14%
Here is how some futures/commodity related ETF's performed over the week: United States Oil Fund (USO) -1.54%, iShares 20+ Year Treasury Bond (TLT) +0.11%, SPDR Gold Shares (GLD) -2.56%
Below you'll find what is else is on the schedule for the week:
Economic Releases:
12 Dec 2017- PPI 8:30 AM ET
13 Dec 2017- CPI 8:30 AM ET; EIA Petroleum Status Report 10:30 AM ET; FOMC Announcement 2:00 PM ET
14 Dec 2017- Jobless Claims 8:30 AM ET; Retail Sales 8:30 AM ET
15 Dec 2017- Industrial Production 9:15 AM ET
Key Earnings:
11 Dec 2017- KMG
12 Dec 2017- CASY, PAY, ARWR
13 Dec 2017- OPTT, PIR
14 Dec 2017- ADBE, COST, JBL, ORCL, SAFM
Be sure to check out our Active Trading Masters Program | Online Courses