February 4, 2018 The Week Ahead
The markets saw their first true taste of volatility under the Trump Presidency, as the Dow Jones Industrials fell by more than 665 points on Friday. The catalyst appears to be inflation concerns. Some Fed officials believe we'll have multiple interest rate hikes this year.
The VIX closed at its highest level of the year, 17.21, on Friday.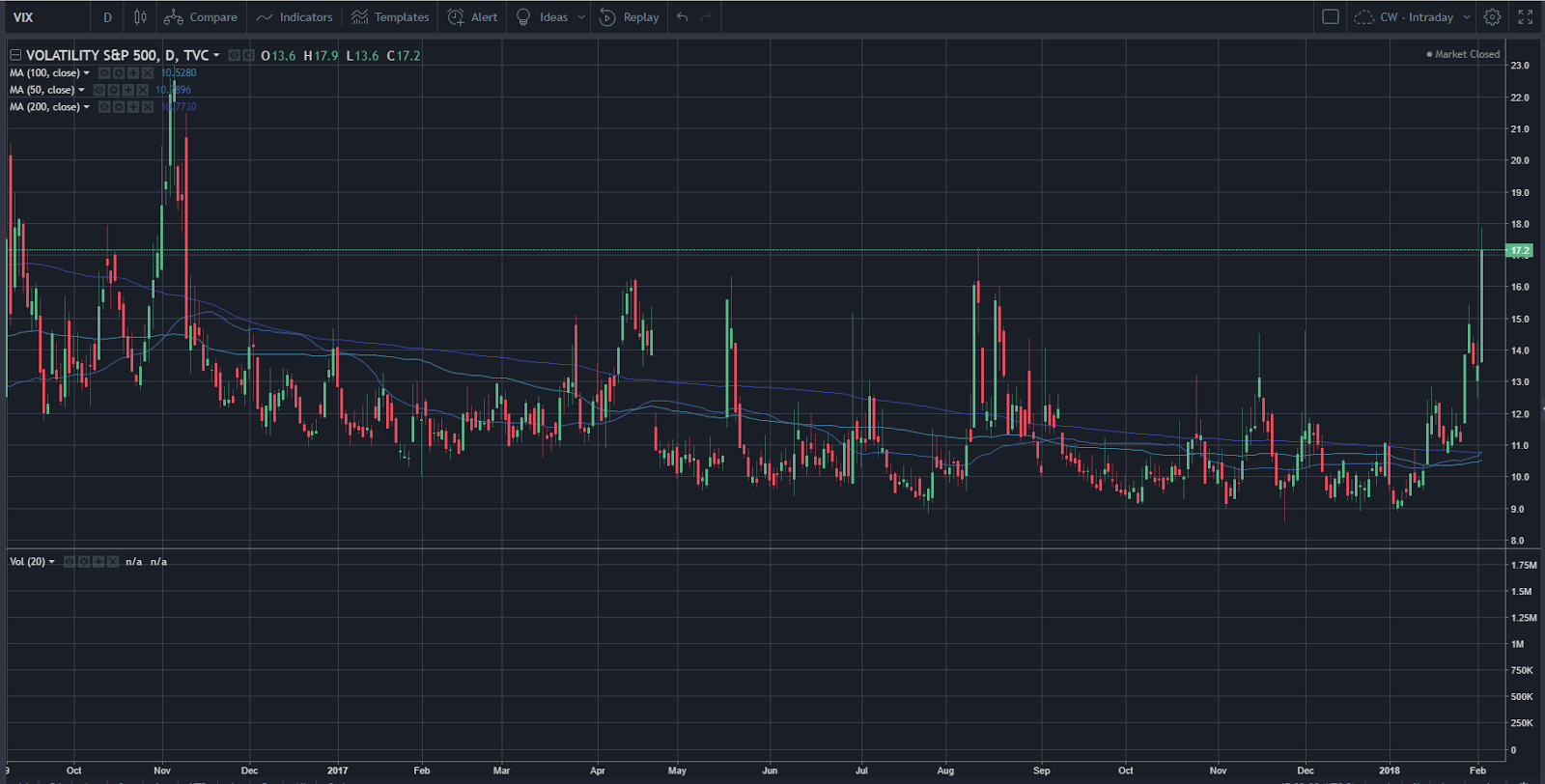 Source: TradingView
Over 100 S&P 500 stocks reported earnings on Friday, that said, there are plenty to look out for this coming week, some of them include: Nvidia, General Motors, Disney, and Tesla.
Here are how some of the most widely traded index ETFs performed over the week:
Powershares QQQ ETF (QQQ): -3.7%; SPDR S&P 500 ETF (SPY): -3.88%; SPDR Dow Jones Industrial Average ETF (DIA): -4.13%; iShares Russell 2000 ETF (IWM) -3.62%
Here is how some futures and commodity ETFs performed over the week: United States Oil Fund (USO) -1.51%, iShares 20+ Year Treasury Bond (TLT) -3.24%, SPDR Gold Shares (GLD) -1.31%.
Economic Releases:
5 Feb 2018- ISM Manufacturing Index 10:00 AM ET
6 Feb 2018- International Trade 8:30 AM ET
7 Feb 2018- EIA Petroleum Status Report 10:30 AM ET
8 Feb 2018- Jobless Claims 8:30 AM ET
Key Earnings:
5 Feb 2018- ARNC, BMY, CHD, HES, ON, SYY, CRUS, FN, NOV, OCLR, RE, SWKS
6 Feb 2018- ABC, ADM, ARW, AXTA, BDX, CNC, DNKN, EMR, FLOW, GM, SAVE, AKAM, APC, BZH, CMG, DIS, EXTR, GILD, MCHP, MTSI, NEWR, NTGR, SNAP, PXD
7 Feb 2018- CDW, CTSH, BILL, HAIN, HAS, HUM, ICE, KORS, TRVG, XEL, ALL, CCK, FISV, FORM, IAC, INFN, IRBT, NTES, NXPI, PRI, PRU, TSLA, TTWO, YELP, ZAYO, ZNGA
8 Feb 2018- BR, BWA, CAH, COTY, CVS, GRUB, K, KKR, MANU, MAS, NLSN, PM, SEE, TEVA, TSN, TWTR, VIAB, WLTW, WWE, YUM, AIG, ATVI, AIZ, DXC, EXPE, FEYE, IMPV, MOBL, MTW, NCR, NUAN, NVDA, NWSA, PCTY, UIS, VRSN, WEB, ZG
9 Feb 2018- CBOE, MCO, PCG
Be sure to check out our Active Trading Masters Program | Online Courses