January 28, 2018 The Week Ahead
The markets continue to steam roll higher as we enter the busiest and most important week of the year. The S&P 500 and Dow are up a stunning 7% ytd, and the NASDAQ is up 8.5%
On Wednesday we'll get word on whether or not the FOMC is going to raise key interest rates or leave them unchanged. Also, this is a heavy earnings week, with some of the largest publicly traded companies reporting.
Despite the strength in the market, the VIX remained steady, closing at 11.10, just a slight drop from last weeks 11.30 closing.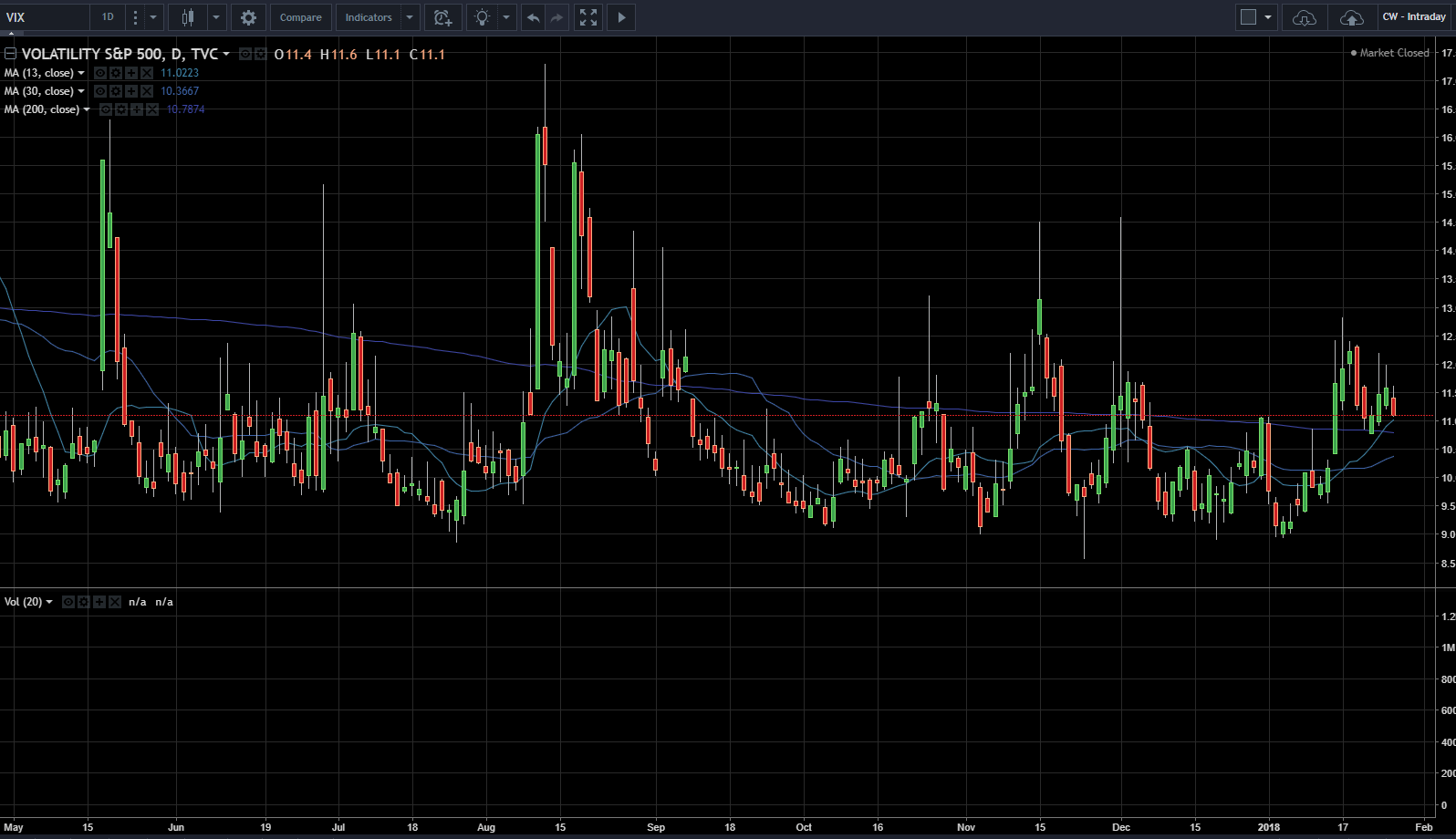 Source: TradingView
Here are how some of the most widely traded index ETFs performed over the week:
Powershares QQQ ETF (QQQ): +2.76%; SPDR S&P 500 ETF (SPY): +2.20%, SPDR Dow Jones Industrial Average ETF (DIA): 2.06%; iShares Russell 2000 ETF 0.63%
Here is how some futures and commodity ETFs performed over the week: United States Oil Fund (USO): +4.09%; iShares 20+ Year Treasury Bond (TLT): 0.42%; SPDR Gold Shares (GLD): +1.31%
Below you'll find what is else is on the schedule for the week: McDonalds, Pfizer, Microsoft, Alphabet, Amazon, Apple, Alibaba, and Exxon.
Economic Releases:
29 Jan 2018- Personal Income and Outlays 8:30 AM ET
31 Jan 2018- EIA Petroleum Status Report 10:30 AM ET; FOMC Meeting Announcement 2:00 PM ET
1 Feb 2018- Jobless Claims 8:30 AM ET; ISM Manufacturing Index 10:00 AM ET
2 Feb 2018- Employment Situation 8:30 AM ET
Key Earnings:
29 Jan 2018- D, LMT, STX, SOHU, ARE, CR, IDTI, PFG, RGA
30 Jan 2018- AKS, ALLY, BEN, DHR, DOV, EAT, GLW, HCA, HOG, MCD, NUE, PCAR, PFE, SAP, TROW, ZBH, CA, EA, JNPR, KNX, NATI, SYK, WRB
31 Jan 2018- ADP, BA, ANTM, BA, DHI, IR, IVZ, JCI, LLY, NDAQ, NYCB, SIRI, TMO, TUP, XRX, CTXS, DRE, EBAY, FB, MDLZ, MET, MSFT, PYPL, QCOM, QRVO, SYMC, T, VRTX, X
1 Feb 2018- BABA, APO, BSX, CME, COP, IP, MCK, MA, MO, R, RL, UPS, VLO, AAPL, AMGN, AMZN, DATA, GOOGL, MAT, MSI, RTEC, V, VIAV, VR, WFT, XL
2 Feb 2018- CHTR, CLX, MRK, PSX, ROP, WY, XOM
Be sure to check out our Active Trading Masters Program | Online Courses